Commercial Solar Roof Solutions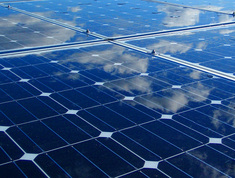 Solar roof installations are not only economically feasible, but with the advent of new technology and government incentives, solar investments:
- have a shortened investment break-even point
- provide reduced electrical utility cost
- can offset substantial roofing costs
Hines & Associates
understands the importance of integrating the application of a rooftop solar system, with the installation of a new, high- quality, warranted roofing system.
---
We have integrated with all types of solar investment opportunities, including:

- System Purchase
- Power Purchase Agreements - PPA's
- Utility Projects

Our engineering resources and comprehensive financial modeling, coupled with a comprehensive understanding of energy commodities, such as the NJ SREC market, will ensure the best technology is utilized with the optimal application to maximize your investment return.
We have partnered with solar manufacturers, developers and financial institutions to provide our customers with the best and most economical commercial solar roof solutions.
Caution: Protect Your Solar Investment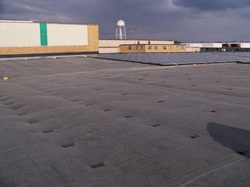 Wind-driven billowing roof membrane
As many building owners and representatives rush to the rooftop-solar market, it is crucial for the underlying roof system to be the best available. A total, or even partial roof membrane-failure may have a catastrophic impact to the system. The difficulty and cost to safely remove and re-install a rooftop solar array is astronomical.
<
The solar array pictured is in jeopardy due to wind uplifting the roof membrane of this mechanically attached roofing system.
Video
>
This is perhaps the most important reason

Hines & Associates

is the obvious choice for your project. We understand and emphasize the roof's importance to the solar project.
We utilize the most technically advanced and most proven roofing system, installed by a select group of approved applicators committed to the highest quality craftsmanship. We then ensure the integrity of the roof while the solar is installed, maintaining the exceptional workmanship throughout the project life, thereby securing the function of both the roof and solar array for years to come.

---
---